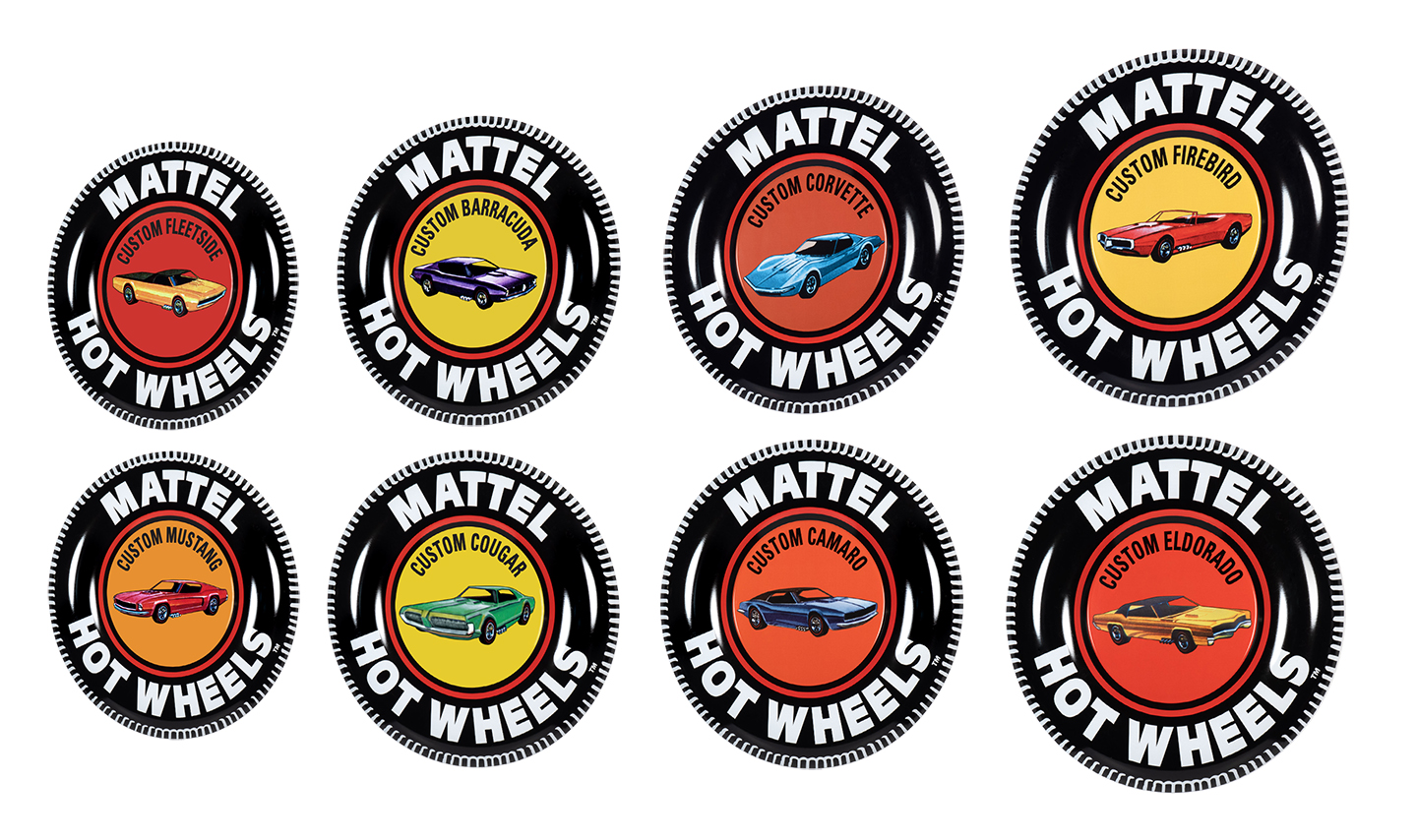 ROUND 2 EXPANDS HOBBY MEMORABILIA WITH NEW HOT WHEELS TIN SIGNS & CLOCKS AND AMT JIGSAW PUZZLES
SOUTH BEND, Indiana – 11/06/2020
With the cooler months approaching now is the time when collectors venture inside and start diligently working on their hobby rooms and displays. This year Round 2 is offering new memorabilia for hobbyists to pass the time and proudly display! From our new series of AMT Model Kit Jigsaw Puzzles to challenge minds, and Hot Wheels Tin Signs and Clocks to adorn hobby room or playroom walls, Round 2 has something for collectors of any age!
AMT JIGSAW PUZZLE SERIES
• The AMT Jigsaw Puzzle Series includes 6 different 1000-piece puzzles featuring box art from some of AMTs most popular models! These large 28"x20" puzzles are made with thick quality pieces for a tight interlocking fit. 6 different puzzles are available featuring the AMT "TV Tommy" Ivo Dragster, '67 Shelby GT-350, '69 Plymouth GTX, '70 Baldwin Motion Camaro, '55 Chevy Bel Air, and the '63 Chevy Impala SS!
HOT WHEELS 12" TIN WALL SIGNS
• These embossed tin wall signs replicate the small metal collector buttons that were included with the Hot Wheels car you bought from 1968 thru 1971. 4 different signs are available featuring the Corvette, Camaro, Firebird and Eldorado.
HOT WHEELS 12" TIN WALL CLOCKS
• These embossed tin wall clocks share the same artwork as the tin signs replicating the small metal collector Hot Wheels buttons. These 4 different clocks are also available featuring the Corvette, Camaro, Firebird and Eldorado.
There's nothing puzzling about these hot new offerings, now's the time to order! Available Early 2021.
# # #
About Round 2, LLC Round 2, LLC is an innovative collectibles and toy company located in South Bend, IN. The creative team at Round 2 is dedicated to producing detailed, high quality collectible and playable items appealing to the young and young at heart. Round 2 brands include Polar Lights®, AMT® and MPC® model kits. Auto World® slot cars, Forever Fun™ seasonal products and the licensed brands Johnny Lightning, Racing Champions, Legends of the Quarter Mile, American Muscle®, Ertl Collectibles® and Vintage Fuel™ die cast.
HOT WHEELS™ and associated trademarks and trade dress are owned by, and used under license from, Mattel. ©2020 Mattel. American Muscle, Johnny Lightning, and Racing Champions are the trademarks of TOMY, registered in the U.S., Canada, and other territories. Ertl Collectibles is the U.S. registered trademark of TOMY.AMT, Polar Lights, MPC, Lindberg, Hawk Round 2 and design are trademarks of Round 2, LLC. ©2020 Round 2, LLC, South Bend, IN 46628. All rights reserved.
ROUND 2 IS ON TOP OF THEIR GAME WITH NEW HASBRO & MONOPOLY LICENSING AGREEMENT
South Bend, Indiana – 5/29/2019
How many evenings and lazy weekend afternoons have you spent trying to get your hands on Boardwalk and Park Place, all the while basking in the joy of bankrupting your family and friends? How many times did you unload Baltic Avenue on an unsuspecting younger sibling, experiencing pride in your business savvy? And how many times have you ended up flipping out your "get out of jail free" card with a smirk on your face?

We all can remember playing Monopoly… Rolling the dice to advance your game piece, purchasing as many properties as possible to get rich quick, or simply formulating a winning strategy.

No other board game has helped create so many cherished memories, and stories that we remember of good times spent with our loved ones.

Now Round2 and Johnny Lightning have teamed up with Hasbro… one of the largest toymakers in the world to bring you a series of uniquely playful products.
ROUND 2 CORP SIGNS A LICENSING AGREEMENT WITH EON PRODUCTIONS FOR JAMES BOND
South Bend, IN (June 20, 2019)
Round 2 Corp., LLC is proud to announce its partnership with EON Productions for the production and sale of James Bond branded die cast cars and model kits within the U.S. and Canada. Starting this year Round 2 will kick off the James Bond collection with 1:18 & 1:64 scale die-cast metal replicas of automobiles driven by the world's deadliest MI6 agent himself. In 2020, Round 2 will also expand the Bond offerings with numerous highly-detailed scale plastic model kits.

Full of intrigue and mystique, it is estimated that over half of the world's population has seen a James Bond movie. And half the world will agree, a Bond movie simply wouldn't be a Bond movie without their amazing car chase scenes loaded to the max with spectral stunts and awesome vehicles. Each product under Round 2's James Bond license will be produced with striking attention to detail and accuracy… Headquarters would have it no other way!

Coming Fall 2019: 1:18 Scale Die-cast Offerings- · Aston Martin DBS - James Bond 007, "Quantum of Solace" - Auto World 1:18 (AWSS123) 1:64 Scale Die-cast Offerings- · Johnny Lightning Silver Screen Machines Rel. 7, Tin Diorama Assortment (JLDR013) o Aston Martin DB5 with "Skyfall" Tin Diorama o 1957 Chevrolet Bel Air with "Dr. No" Tin Diorama